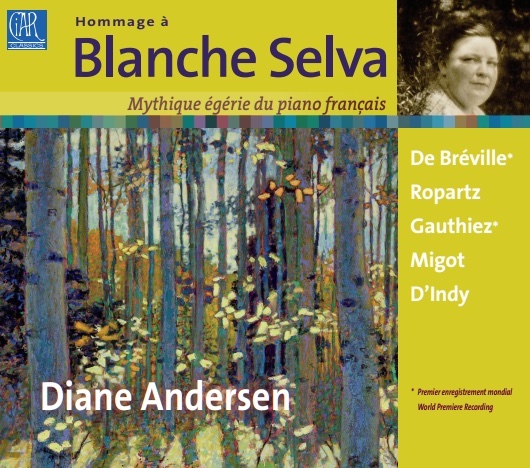 Hommage à Blanche Selva
Les œuvres de ce CD en hommage à Blanche Selva, qui nous a quitté il y a quatre-vingt ans, ont été composées spécialement  pour cette grande virtuose et immense musicienne par ses amis compositeurs. Les faire revivre nous font revivre l'atmosphère de cette époque et met en lumière des partitions tombées,  pour certaines,  dans l'oubli.
The works of this CD in tribute to Blanche Selva, who left us eighty years ago, were composed specially for this great virtuoso artist and musician by her friend composers. Reviving them brings us back to the atmosphere of the musical life of that time and highlights scores that have fallen, for some, into oblivion.
Diane Andersen is a marvellous advocate for these intriguing and alluring works.
(Pierre Gervasoni, Le Monde, 30 juin 2017)
ROSNER 5 Ko-ans for Orchestra. Unraveling Dances. The Parable of the Law - Burchett/Palmer/LPO - TOCCATA 0465
DELVINCOURT Croquembouches. Prelude and Fugue. Menuet. Gavotte. Valse.Galéjade. 5 Pieces for Piano - Andersen - AZUR 152
BARTÓK For Children (revised version, 1943) - Bach - HÄNSSLER 17009
W. S. BENNETT Piano Sonata No. 1, op. 13.
SCHUMANN Symphonic Etudes, op. 13 - Takenouchi - ARTALINNA 018
MOZART Sonatas for Piano, Four Hands: in D, K 381; in BΙ, K 358; in G, K 357; in F, K 497. Two-Piano Sonata in D, K 448 - Bakhchiev/Sorokina - MELODIYA 10 02252
If each of the recordings on this list were to win a specific prize, the trophy for Most Charming would without question go to Diane Andersen's recital of piano works by Claude Delvincourt. Who could fail to be tickled by a large-scale piano suite, ten movements of which attempt to evoke different desserts (and which chastens the gluttonous listener with doses of prairie oysters and castor oil in the final movements)? Or by a minute-long antic tall tale that somehow manages to bluff the listener into perceiving it as much more extensive? Listen to Delivincourt's Croquembouches and Galéjade and see if you can resist. The 5 Pieces for Piano, while not adhering to any specific program, offer an equally tart delectation.
(Myron Silberstein - Want List, in Fanfare, August 2018)